Coping with the Winter Blues during COVID-19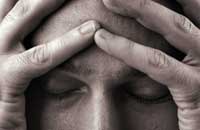 class details

Do you struggle with low mood and lack of motivation and energy during the winter months?
Does the winter weather make coping with day to day stressors more challenging?
Has this become worse for you during the pandemic?
Winter can be a long and difficult season to deal with especially with the added distancing requirements due to COVID-19. Register for this one hour virtual series where our social team will answer questions such as:
What is seasonal affective disorder/the 'winter blues'?
What are the symptoms?
What are some effective coping strategies?
What are the comunity resources/supports available to me?
This webinar will be faciliated by the Credit Valley Family Health Team Social Work team.
A Zoom link will be sent to all registered participants. Please note that an email address is required for registration. While this webinar is best experienced via internet/virtually, instructions on how to join by phone will be provided.

Wednesday, February, 17, 2021
12-1pm

Online registration - select a class from the list below
Upcoming classes:
| | | | | | | | |
| --- | --- | --- | --- | --- | --- | --- | --- |
| Wed | 17 Feb | 12:00pm - 1:00pm | Virtual Mtg | | | | 25 places available |